Summary
The Alleviate Pain Hub has a strong Patient and Public Involvement and Engagement team. In this article, our Deputy Director discusses the benefits they provide to the Alleviate Pain Data Hub since they became embedded in our project.
The Alleviate Pain Hub has a strong Patient and Public Involvement & Engagement (PPIE) team. We have two very experienced leads in Jillian Beggs and Antony Chuter. They are individuals who beautifully complement each other in their leadership roles. Their combined skills allow them to find enthusiastic and knowledgeable members of the public who contribute to and with the inner workings of the Alleviate Pain Hub.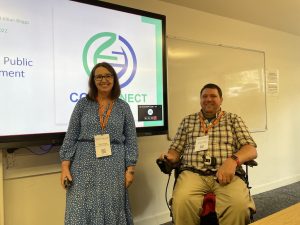 Embedded PPIE
The PPIE group within our Hub gets many compliments from observers for several reasons. The most significant benefit for me, is that we embed our PPIE members in all aspects of our project. They are in our Team meetings and our Steering Group meetings. They also lead separate meetings to come up with ideas on how to improve the project and get the message on the benefits of the Hub out to a wider range of people. For us, PPIE isn't an add-on to our project to tick a box, they are a central and collaborative part of our Hub that we are very grateful to have.
Benefits of PPIE
As Deputy Director of the Alleviate Pain Hub, my role involves delivering the Hub and raising awareness of its benefits and what it can offer. Having the ability to talk about this and any issues I have with a team of confident PPIE members is a real asset. Due to their life experiences, they view the Alleviate Hub from a very different perspective to me. This perspective continually re-adjusts my views on the Hub and how I communicate in relation to it. Furthermore, when writing papers, abstracts, blogs, or updating the website, the suggestions from the PPIE members and their world view help to make our writing more widely accessible and more complete.
This blog was a suggestion from our PPIE team and it's a pleasure to have the opportunity to write the first blog in the series. I'll finish on the biggest value the PPIE team give me, their shared experiences motivate me to make the Alleviate Hub as successful as possible.
---
More information is available on the Alleviate Pain Data Hub website, subscribe to our newsletter for regular updates or join our community.